Managing Stress, Improving Mare Performance: Is Altrenogest a Good Option?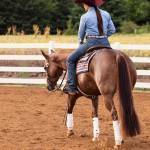 Medications and supplements designed to reduce "mare-ish" behaviors continue to be extremely popular among horse owners. New data support using altrenogest to decrease stress responses associated with training, which could translate into improved trainability and rideability.* That said, altrenogest may also be associated with anabolic effects, which would warrant additional evaluation before use in a competitive setting.
Stress and fear, measurable via the stress hormone cortisol, impair learning. Studies show that young mares appear to suffer more intense training-induced stress than young geldings or stallions based on increased salivary cortisol levels and heart rates.
"Ovarian cyclicity is widely believed to play a role in reduced performance in mares. Because of this, female performance horses are often administered altrenogest to suppress estrous behavior to facilitate training and improve focus during competition," explained Kathleen Crandell, Ph.D., a nutritionist for Kentucky Equine Research.
To better understand how altrenogest affects the stress responses and ovarian cyclicity of mares, three-year-old Warmblood mares entering a nine-week training program were recruited. Six mares were administered altrenogest (0.044 mg/kg) once daily by mouth via syringe, and five mares were administered an equivalent volume of sunflower oil.
Salivary cortisol levels and heart rates were measured routinely before and after each training session, and heart rates, body weights, and body condition scores (BCS) were determined at specific points throughout the study. In addition to evaluating training-induced stress, researchers gauged stress responses during routine gynecological examinations and two separate novel-object tests (e.g., horses were led to a red bucket in the middle of an arena by a familiar person until the horse made contact with the bucket, or horses were led toward and over a white tarp placed in the middle of an arena).
"Salivary cortisol and heart rate increased in both groups of mares during their training sessions; however, the increase was significantly lower in the mares receiving altrenogest," Crandell explained.
The gynecological examinations and novel-object tests induced a much smaller increase in cortisol and heart rate than training, and no significant difference in stress responses was observed between the altrenogest and sunflower oil groups.
"These results show that altrenogest treatment reduced the stress response during training compared to the untreated control mares," she said.
Reducing stress by administering altrenogest could minimize aversive behavior when being ridden, thereby improving safety for both mare and rider. Further, altrenogest may decrease cortisol release and stress to improve learning ability and ultimately improve performance.
On the other hand, improved performance could also be due to anabolic or muscle-building effects of altrenogest. In this study, mares initially lost weight and body condition during training. This was rapidly followed by an increase in weight gain and body condition in all mares, but those increases were more pronounced in altrenogest-treated mares.
"Previous research in sedentary mares did not reveal any androgenic effects from long-term altrenogest supplementation; however, further research regarding the mechanisms of altrenogest's action in exercising horses is required," Crandell noted.**
For non-pharmacologic training support of high-strung or excitable horses, consider modifying the diet to include energy sources with high levels of fermentable fiber (soy hulls, beet pulp) and fat (vegetable oil, stabilized rice bran). Concentrates with these ingredients are readily available in the marketplace. A low-starch approach to feeding young high-performances might make them more amenable to training, as some are more reactive when fed normal levels of starch. Another management strategy includes offering as much turnout as possible.
Several studies support omega-3 fatty acid supplementation in pregnant mares and foals to facilitate learning.
*Kaps, M., A. Lutzer, C. Gautier, C. Nagel, J. Aurich, and C. Aurich. 2022. Altrenogest treatment reduces the stress response of three-year-old warmblood mares during their initial equestrian training. Domestic Animal Endocrinology 80:106728.
 **Hodgson, D., S. Howe, L. Jeffcott, S. Reid, D. Mellor, and A. Higgins. 2005. Effect of prolonged use of altrenogest on behaviour in mares. Veterinary Journal 169(3):322-5.