Growth and Development of Thoroughbreds: Review Paper Published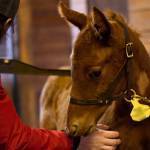 Based on many years of fieldwork and statistical analysis, Kentucky Equine Research has pinpointed several factors that influence the growth and performance of Thoroughbreds. Much of the data collated for these studies were derived from careful and systematic growth-tracking of thousands of young horses worldwide using proprietary software.
A review paper, titled "Growth and Development of Thoroughbred Horses" and recently published in Animal Production Science, summarizes the aforementioned studies and other relevant work by prominent researchers, and identifies areas of prospective research. Future research goals, according to Peter Huntington, B.V.Sc., M.A.C.V.Sc., the lead author on the review paper and director of nutrition for Kentucky Equine Research, include:
Defining optimal growth of Thoroughbred weanlings and yearlings;
Identifying foals at risk for developmental orthopedic disease earlier;
Modifying nutrition and management practices to reduce the impact of skeletal disease on health and welfare.
According to Huntington, "More data are required on the growth of Thoroughbred horses and Kentucky Equine Research is leading a global collaborative project on this vital topic."
Want to read more? Take a look back at a selection of growth-related studies by Kentucky Equine Research:
The Role of Nutrition in the Management of Developmental Orthopedic Disease
A Summary of Growth Rates of Thoroughbreds in Kentucky
Thoroughbred Growth and Future Racing Performance
Body Weight, Wither Height and Growth Rates in Thoroughbreds Raised in America, England, Australia, New Zealand, and India
The Relationship Between Size at Yearling Sale, Sale Price, and Future Racing Performance in Kentucky Thoroughbreds
Body Weight and Condition of Kentucky Thoroughbred Mares and Their Foals as Influenced by Month of Foaling and Season