Research Horses
Kentucky Equine Research maintains a herd of approximately 40 horses between its 150-acre research farm in Central Kentucky and facilities in Ocala, Florida.
These trained and experienced research animals are our most valuable employees, and are cared for by a large staff. We welcome visitors to the farm by appointment. Every horse on the farm is a valued individual. Kentucky Equine Research does not perform terminal studies.
Digestion Trials
In digestion trials, the horses' precise intake and excretion are measured to see how the horses utilize their feed and water. To aid in the collection of urine and feces, the horses wear specially designed harnesses called nappies, which are emptied several times a day, and allow the horses the freedom to roam around their stall and take part in daily exercise. If they are wearing nappies, they are hand-walked or stretch their legs in the farm's six-horse free exerciser. Because researchers need to measure the horses' exact rations, muzzles that allow them to drink freely, but not graze are employed to allow horses without nappies to enjoy daily turnout without introducing the variability of pasture intake.
Exercise Studies
Horses participating in exercise studies at our Kentucky facility run on our high-speed treadmill. Horses are carefully trained at low speeds before they are asked to gallop. Before an exercise study begins, the horses are conditioned to reach a baseline level of fitness. Horses on an exercise trial will be asked to walk, trot, canter, or gallop on the treadmill at varying speeds depending on the needs of the study. Sometimes the duration of exercise is determined by how long it takes the horse to reach or maintain a certain heart rate. These studies may require drawing blood at specific intervals during exercise, which is done via a catheter placed in advance by our on-site veterinarian.
Our racehorses participate in studies designed to mimic typical training conditions. Their measured exercise is more likely to be a gallop or breeze on our 6-furlong training track. We monitor their speed, distance, and heart rate in real time using our mobile app, KER ClockIt Race.
Palatability Studies
We also do palatability studies, measuring feed intake to see which flavors horses prefer. (The horses really love these studies, of course!) We also perform routine in vivo quality control studies to ensure that KER-affiliated feeds, ingredients, and supplements are free from prohibited substances.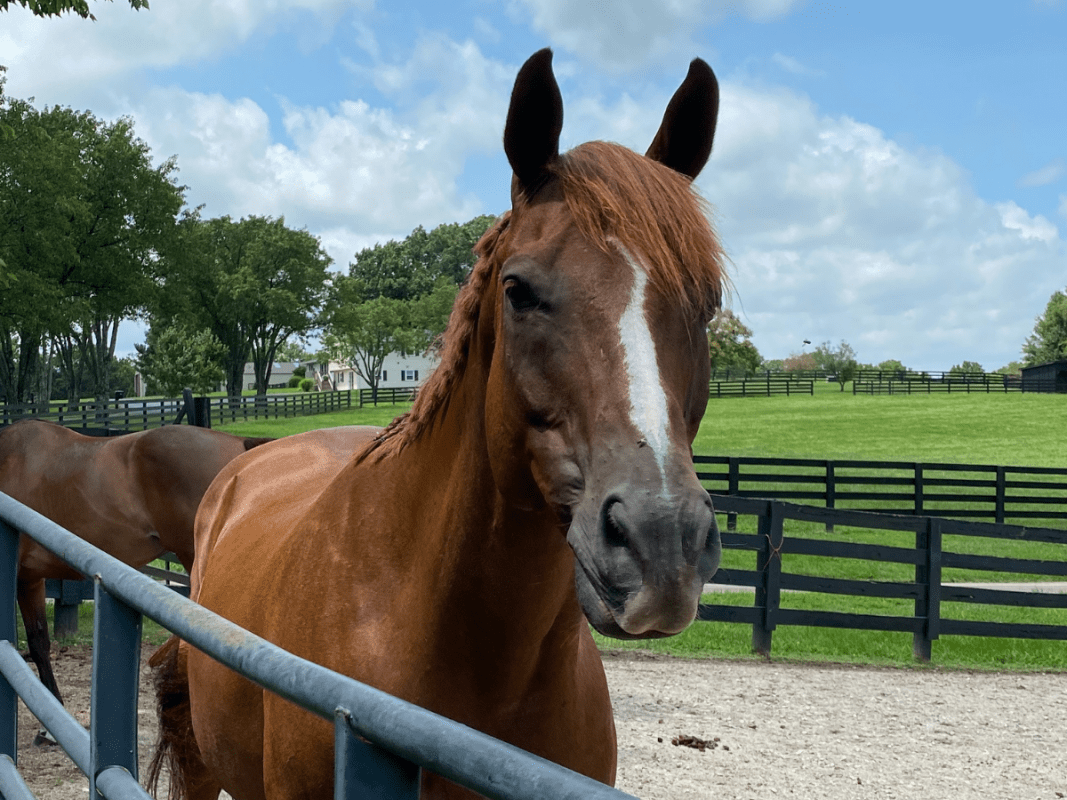 Barossa
Extremely cute and exceedingly aware of it, Barossa is easy to love. He is content with equine companionship, but he really ratchets up the charm when humans enter the mix.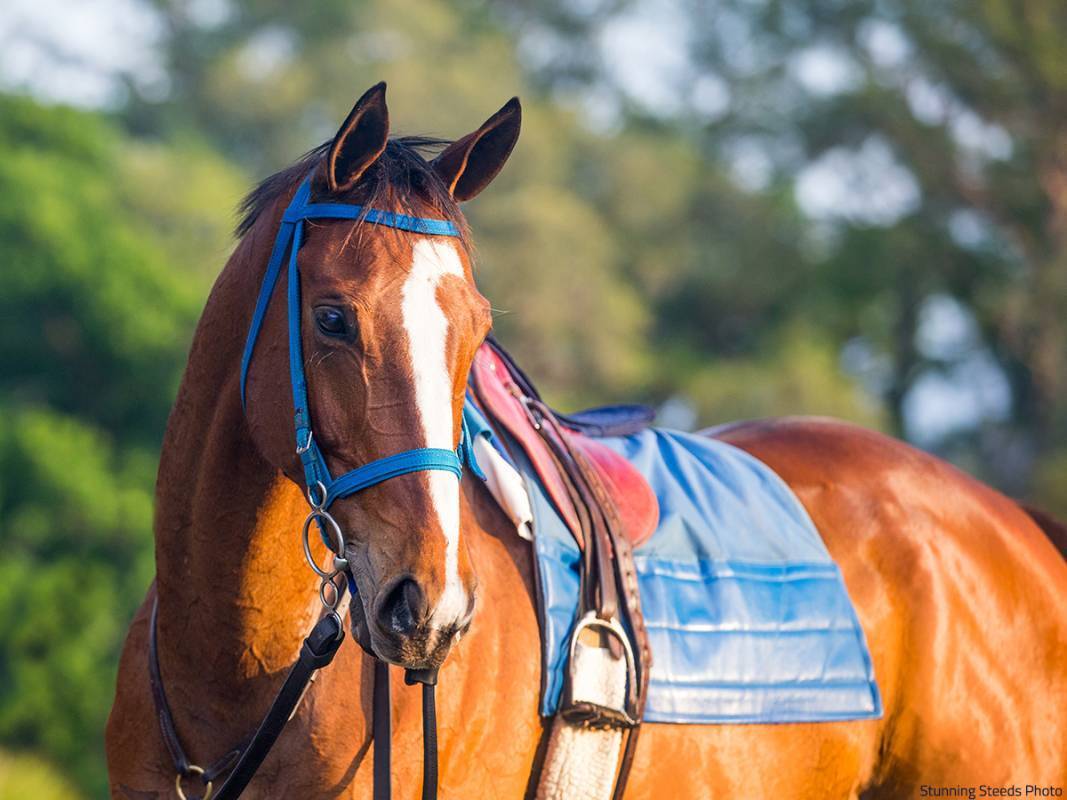 Country Minister
A winning racehorse with more than 60 starts in his career, Country Minister has also contributed to studies on electrolytes, bone density, muscle health, and more.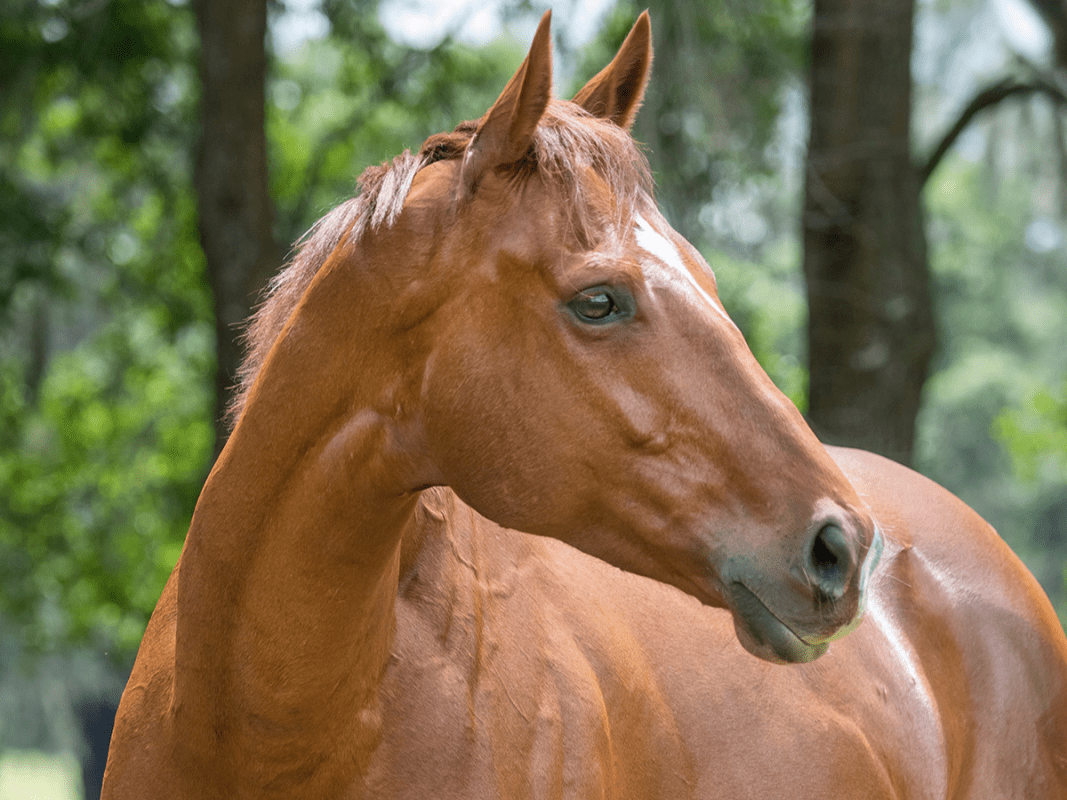 Easy Lion
This easygoing gelding has experience on the track and eventing as well as in the research barn.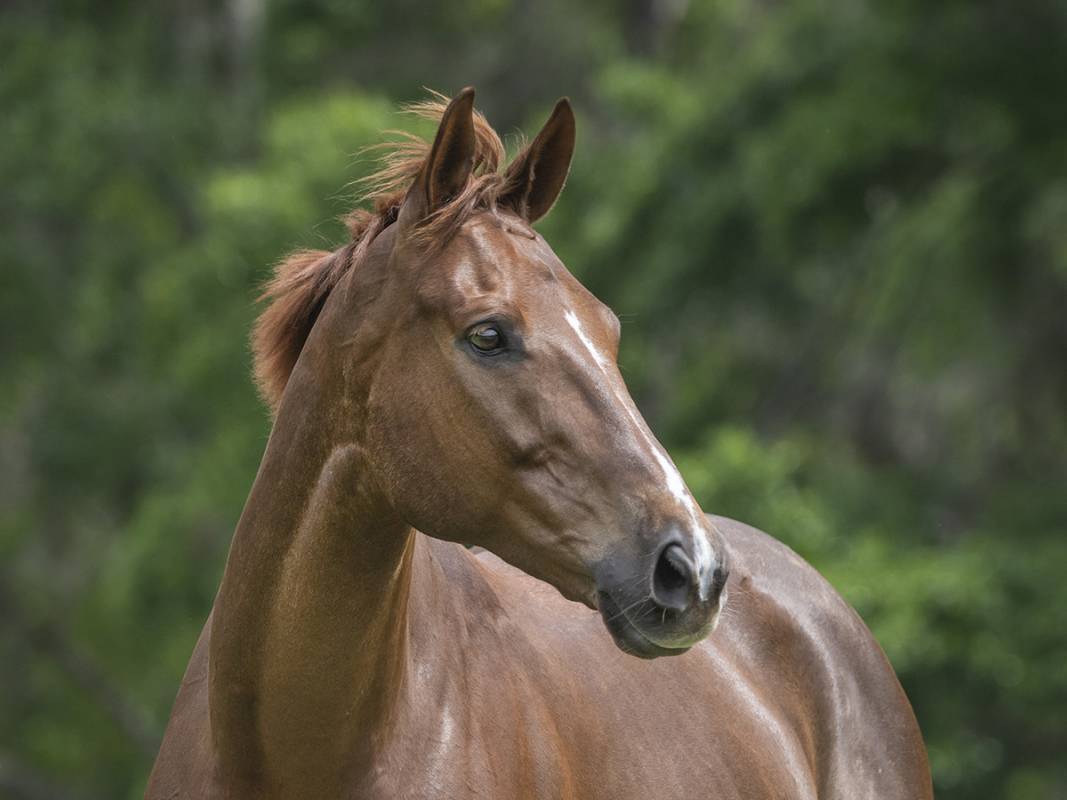 Fair Dinkum
With experience on the track, as a research horse, and now an active eventer, Fair Dinkum has been a part of every aspect of Kentucky Equine Research. His exceptional cardiac fitness made him a great example horse for the development of KER ClockIt Sport.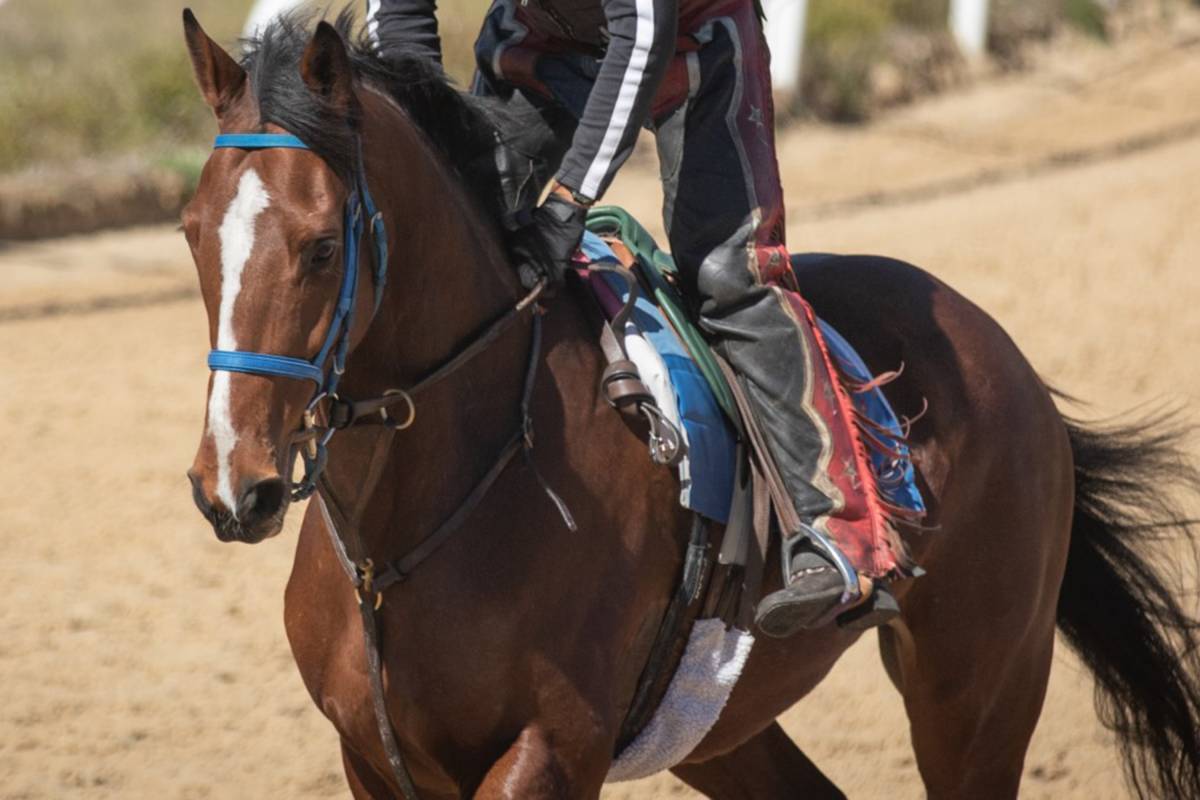 Greenwich Park
This gelding is helping us to better understand the influence of different sources of omega-3 fatty acids on inflammatory markers following intense exercise.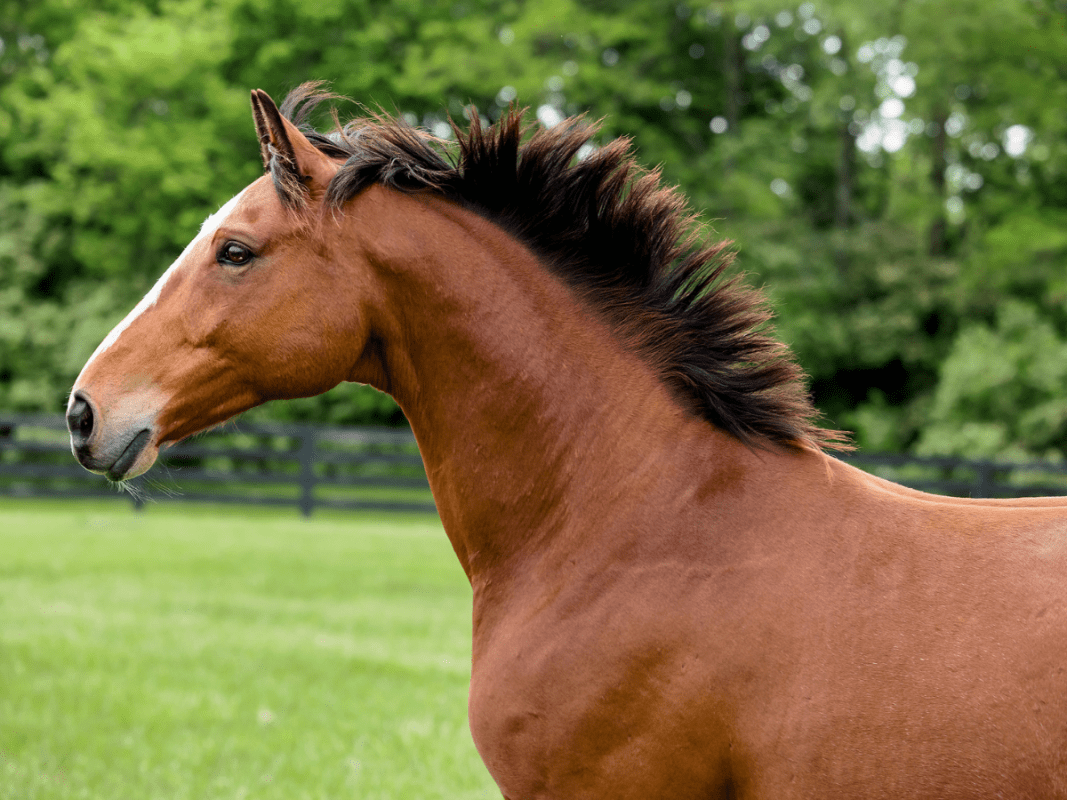 Halo
Halo is a perpetual fan favorite with our staff, and is the resident ham. Point a camera in his direction and he understands the assignment! Halo loves participating in palatability studies.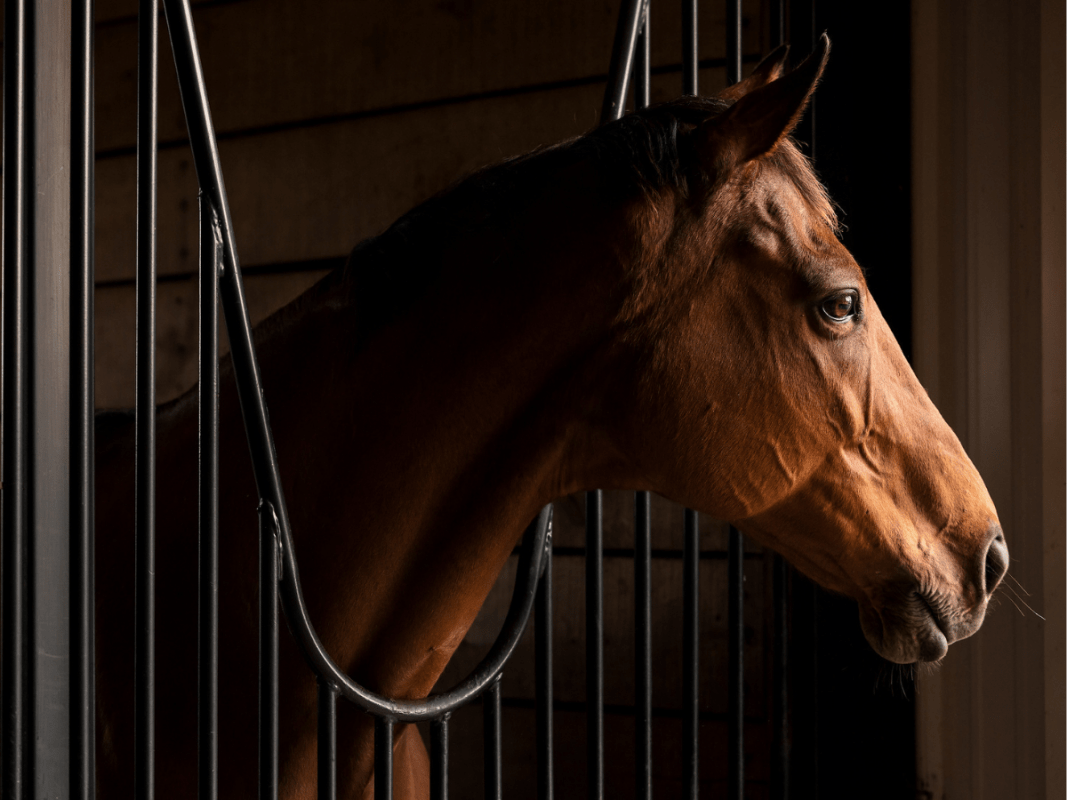 Harold
Harold is a veteran research horse, and one of the best treadmill horses we have. His registered name is "Harsh Harry", but there's nothing harsh about him!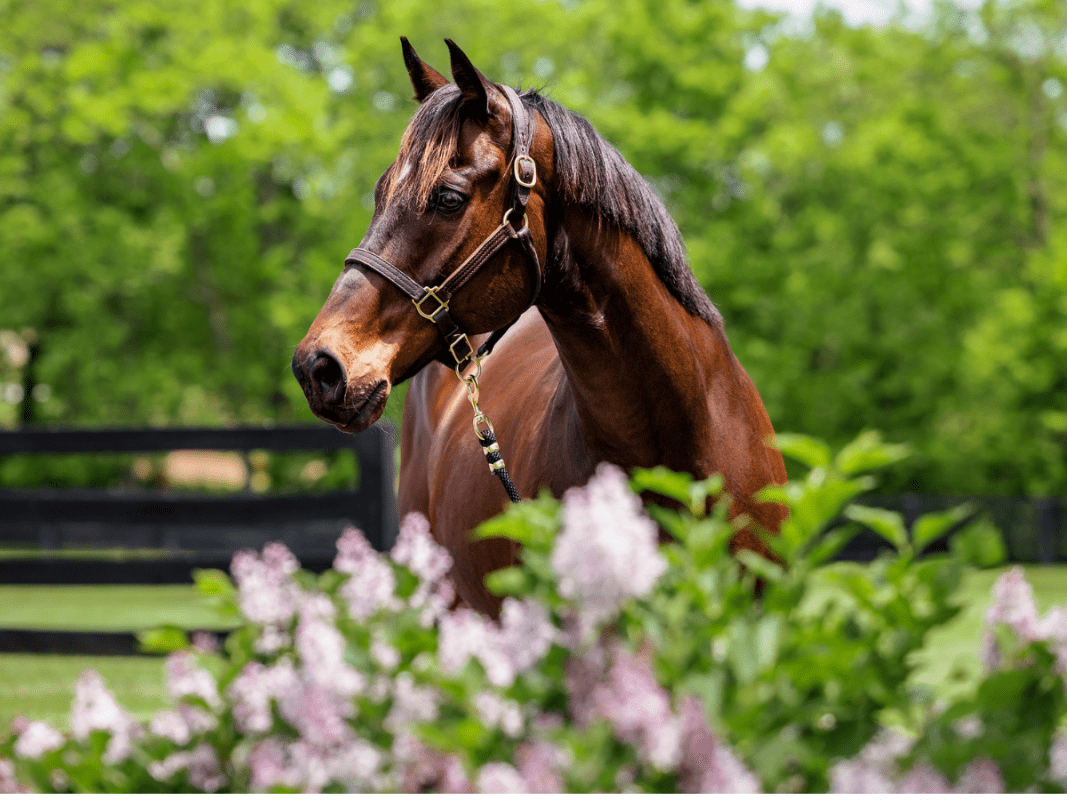 Harry
Harry wasn't quite fast enough to be competitive on the track, but he loves to gallop on the treadmill. He's one of our go-to horses for high-speed work.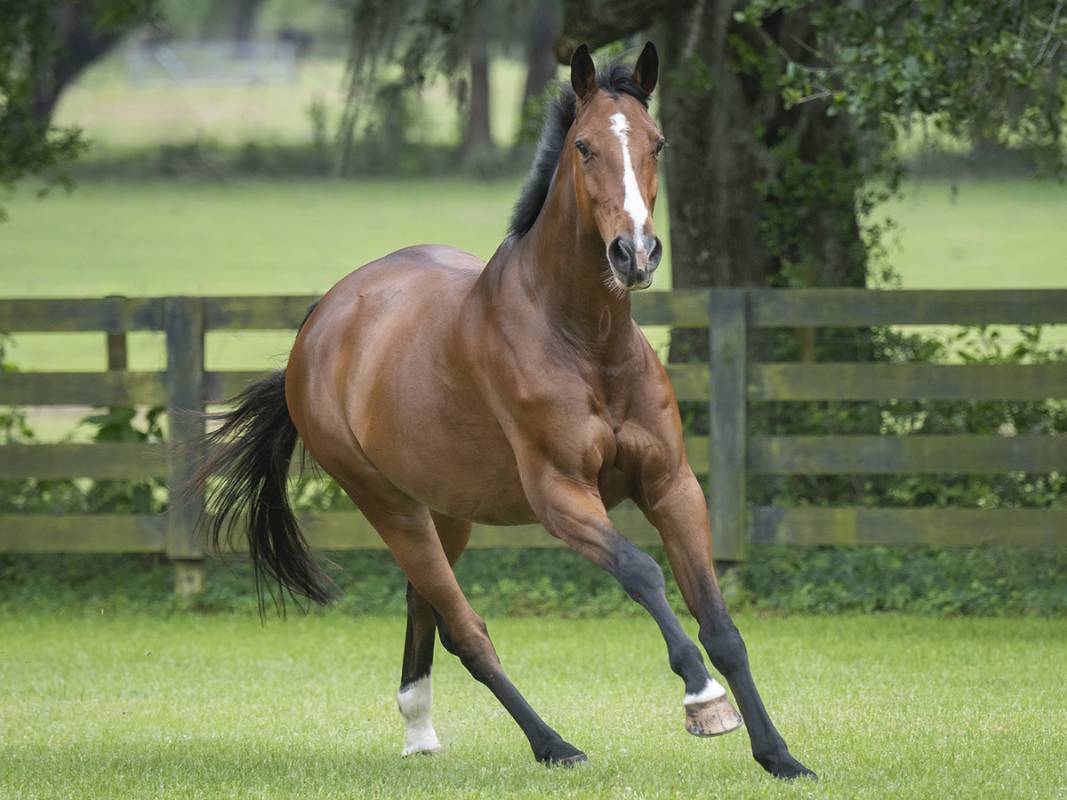 Kazoo
This Warmblood gelding is always happy to share his opinion in feed palatability studies.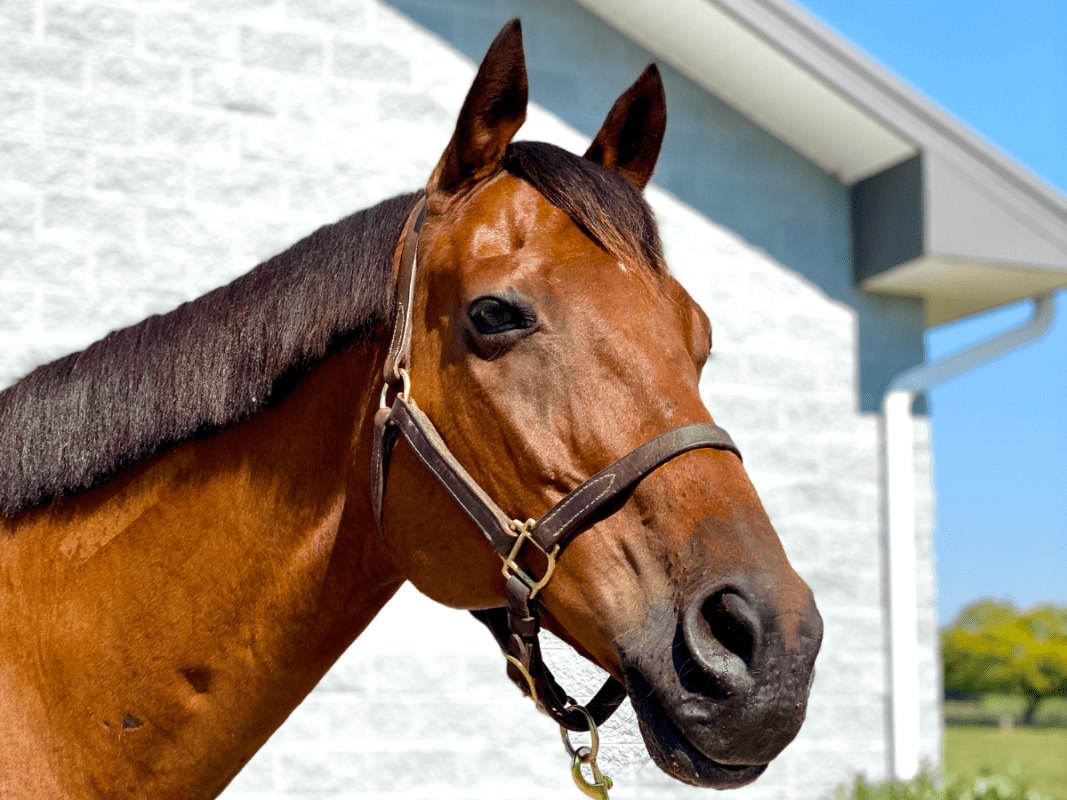 King
King will win you over with his cute face, but don't be fooled … he is the escape artist of the farm! Too smart for his own good, King is usually at the center of any shenanigans in the herd.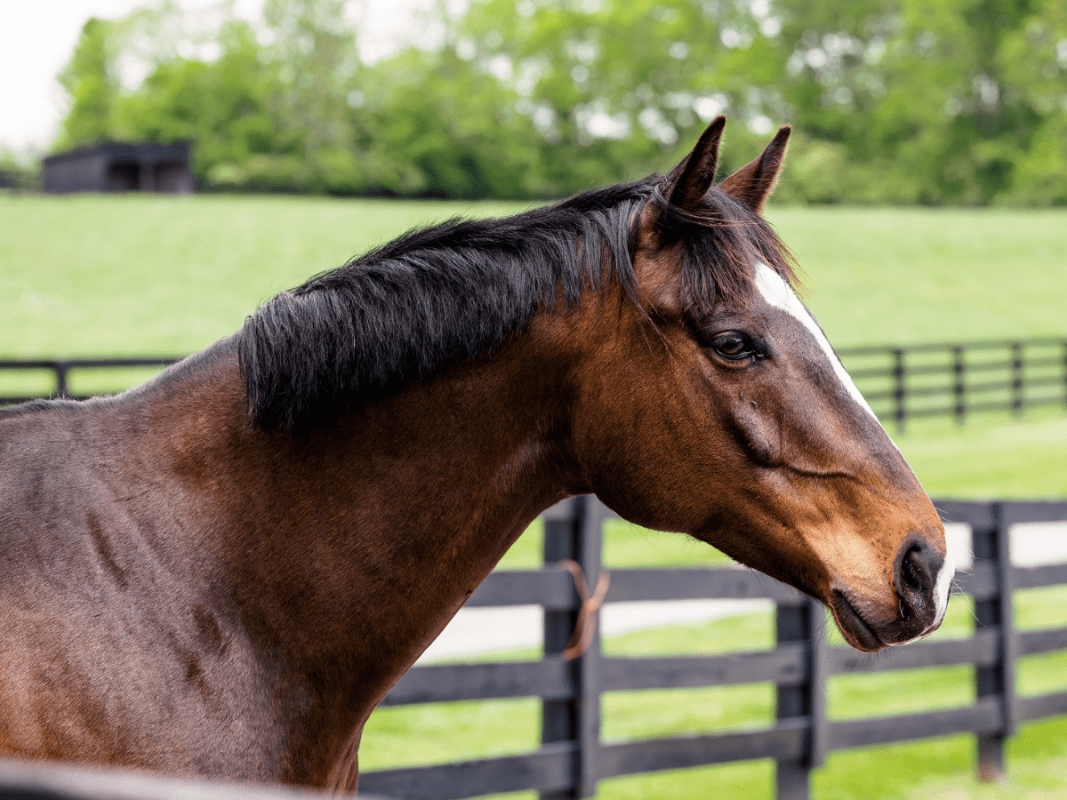 Lute
Lute is another fantastic treadmill horse in our herd. He will gallop all day long if you'd let him!
Marvin
Marvin is a big lovable moose. He is one of our superstar research horses. From galloping on the treadmill to participating in digestibility and palatability studies, Marvin does it all.
Mind Game
This gelding is a total ham whose big personality keeps the interns laughing. He's helping with studies on muscle physiology and exercise recovery while in active race training.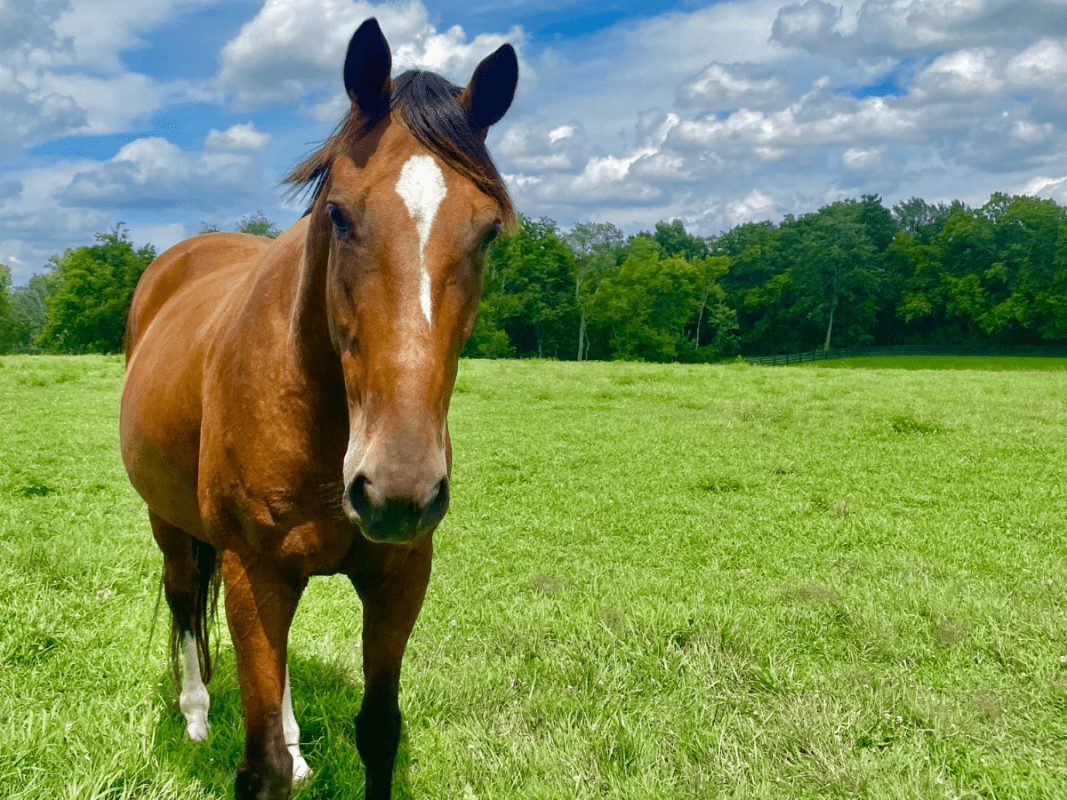 Riddler
Riddler is a member of our Kentucky herd. His favorite activities include participating in palatability studies and eating watermelon snacks.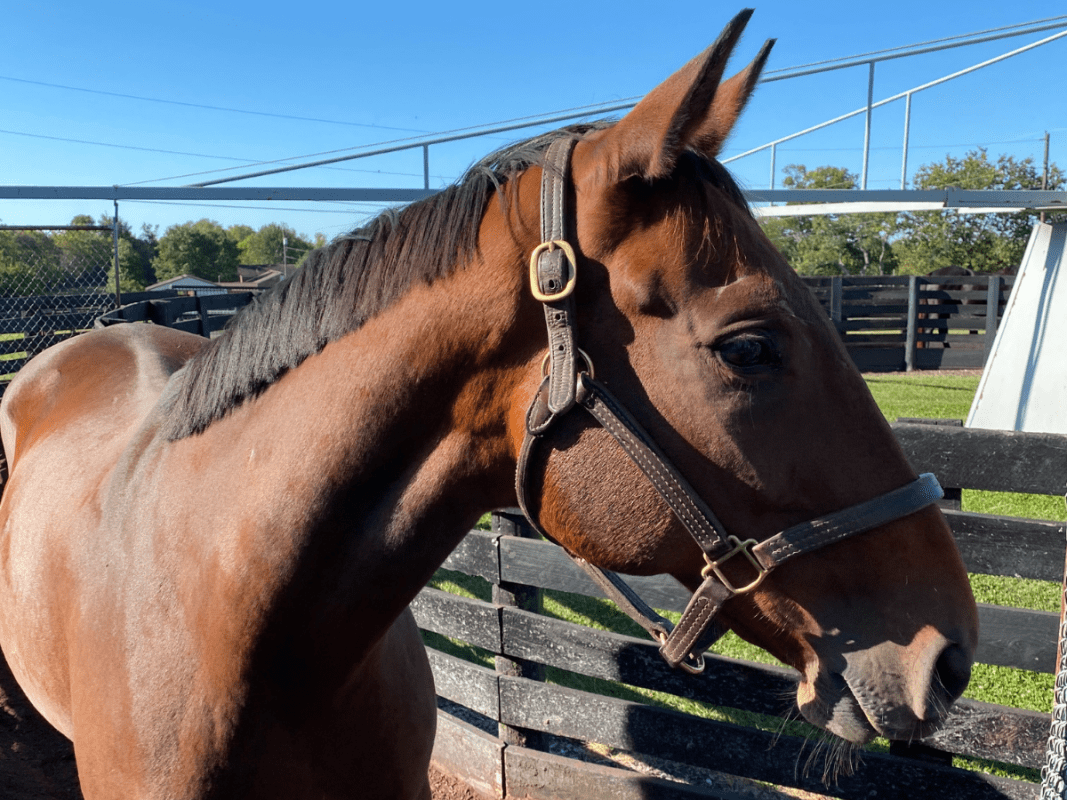 Romeo
Handsome Romeo was part of our racing stable for years. He still participates in palatability trials in his new role as a sport horse.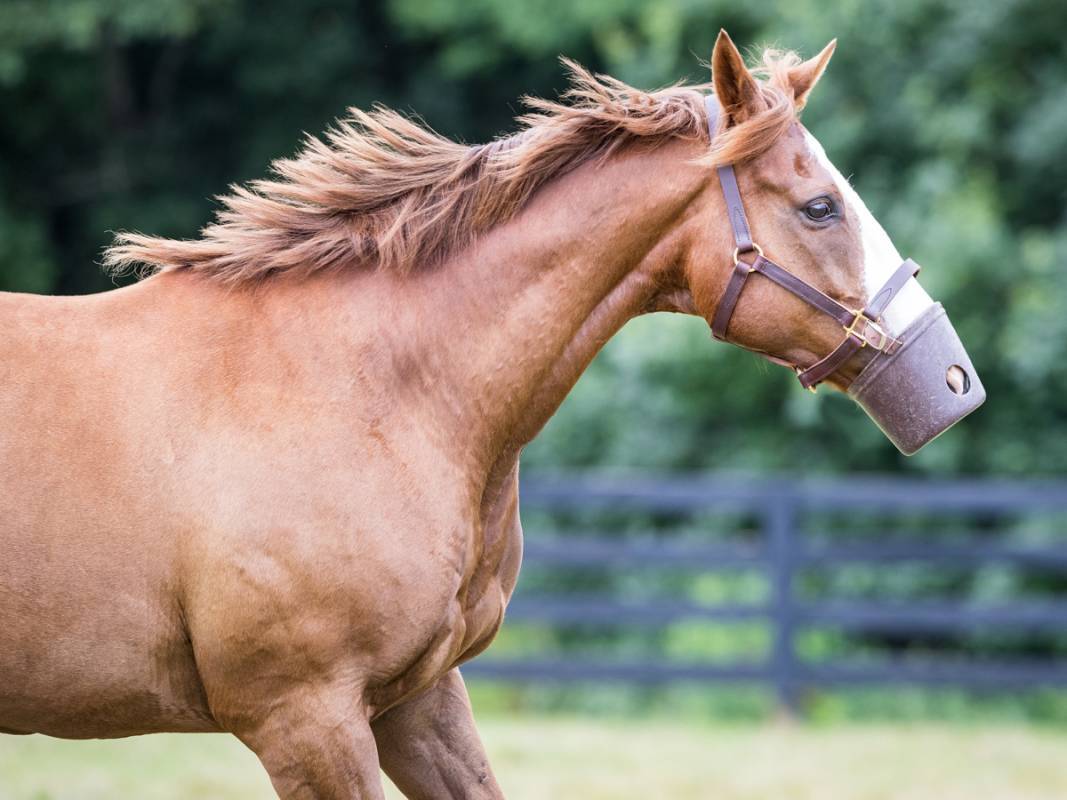 Sheldon
Sheldon's sweet character makes him an intern favorite. He enjoys turnout with his best friends King, Mo, and Malibu.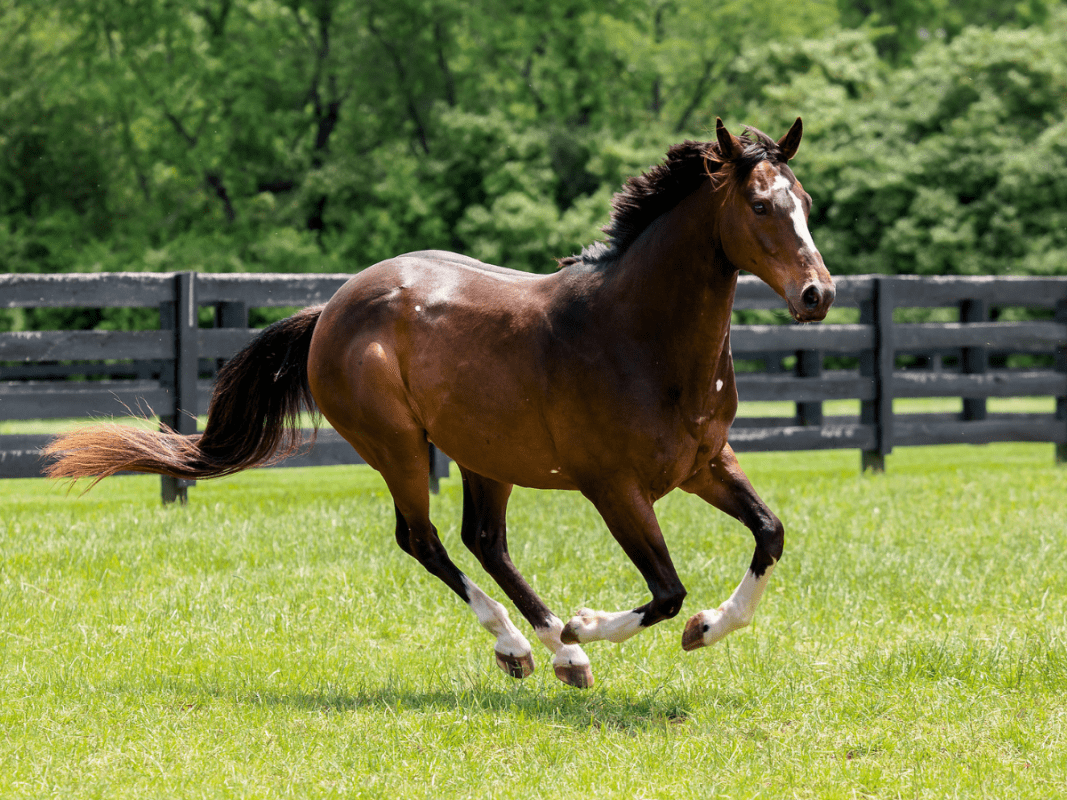 Super Mazz
Mazzy is one of our most successful racing research horses. A longtime member of herd, he's helped develop electrolytes, bone density and digestive health products, partner feeds, and more.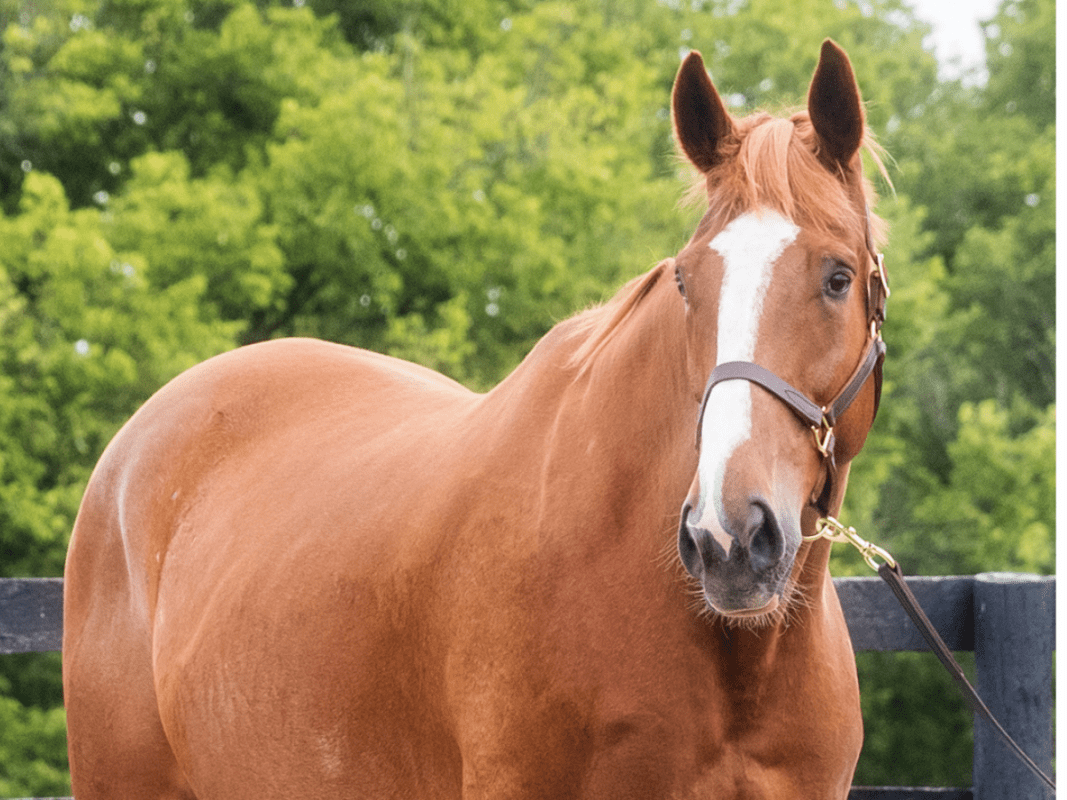 Winston
Winston is one of two chestnuts in a sea of bay horses at our Kentucky farm. Don't get him confused with Sheldon, they look very similar!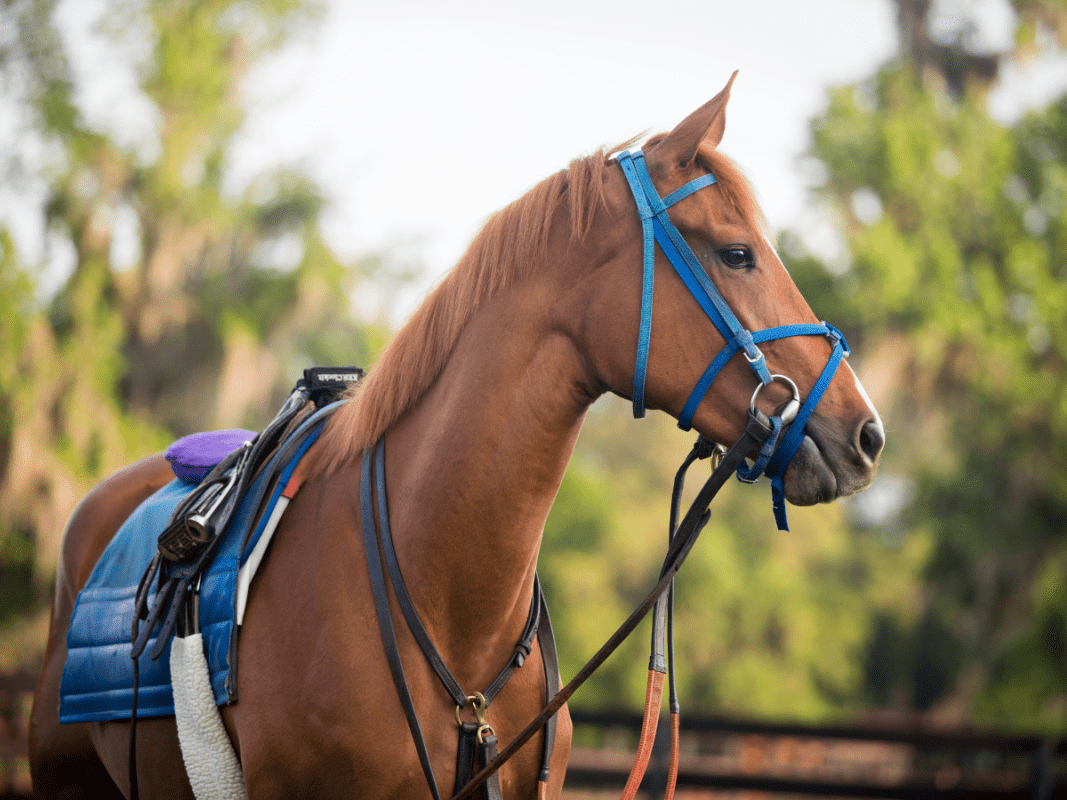 Down and Dirty
A winning Indiana-bred racehorse, this filly has worked on studies related to muscle recovery after exercise.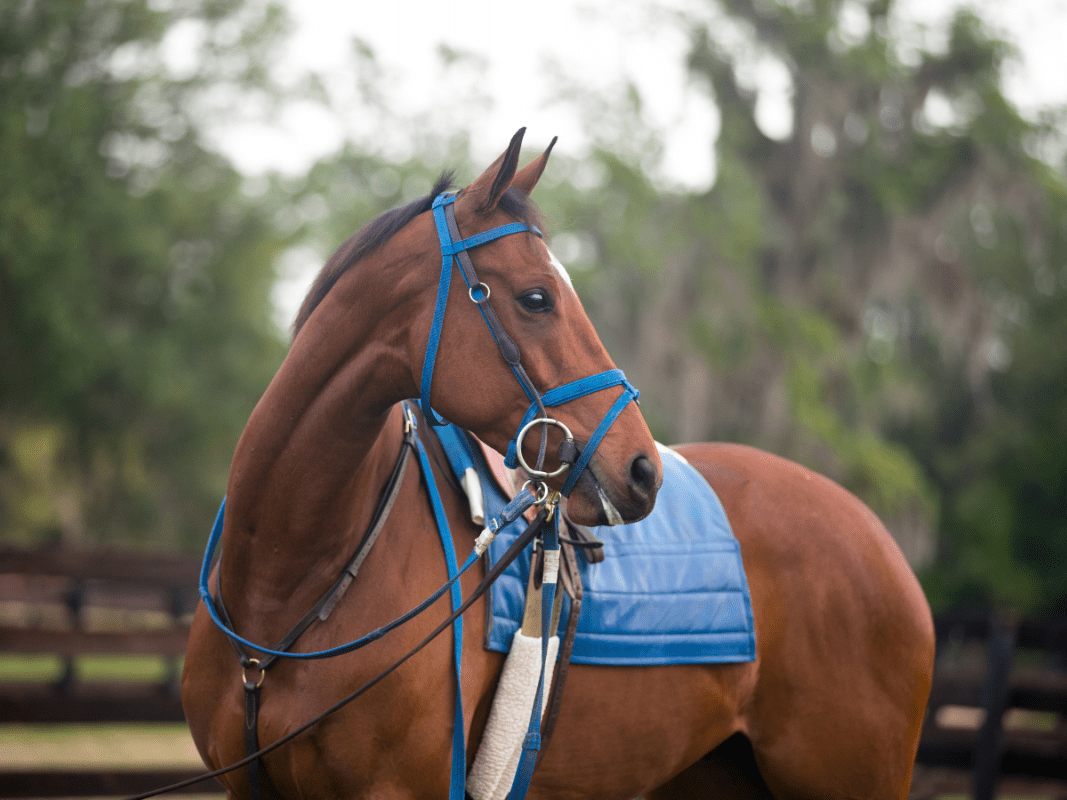 Dr. Smooth
One of our star racehorses, he has helped us develop electrolytes and bone support products, as well as sampling racing feeds for our manufacturing partners.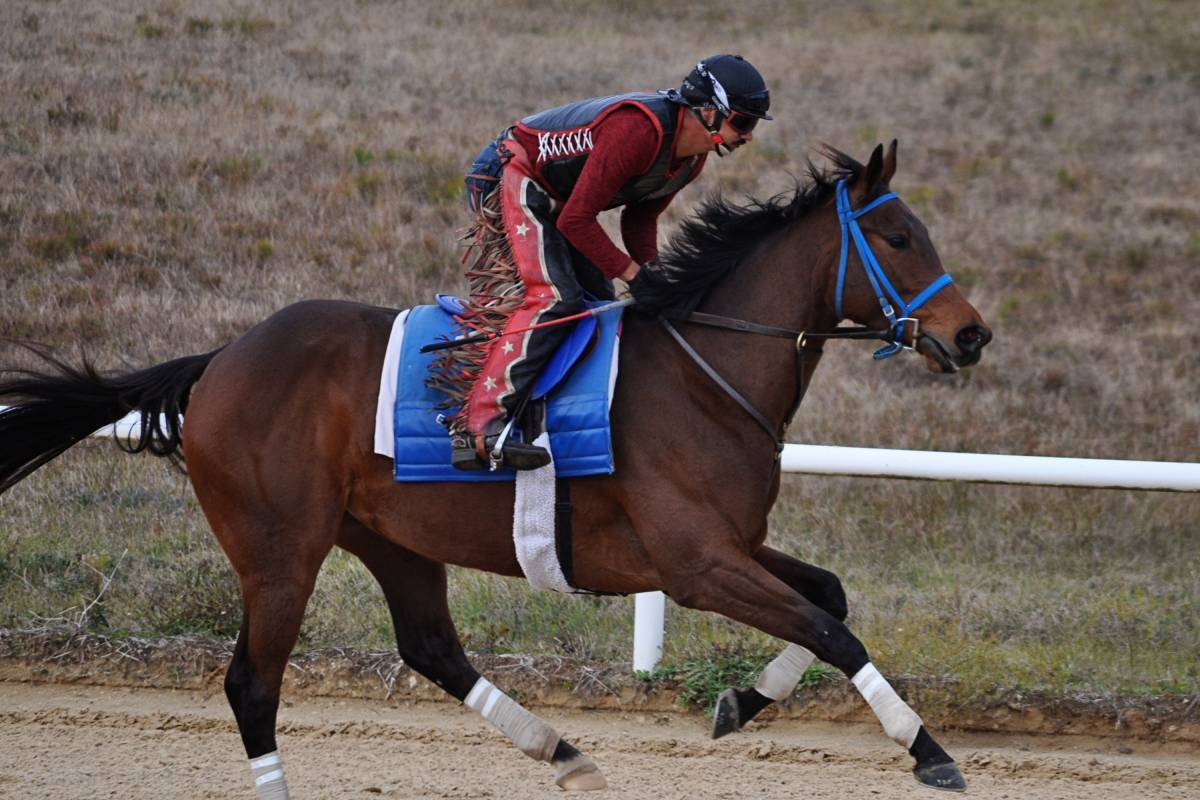 Fine Distinction
To make a feed for racehorses, you need to feed it to racehorses–including fillies with picky preferences. Fine Distinction helps us assess the palatability of the racing feeds we develop with our manufacturing partners.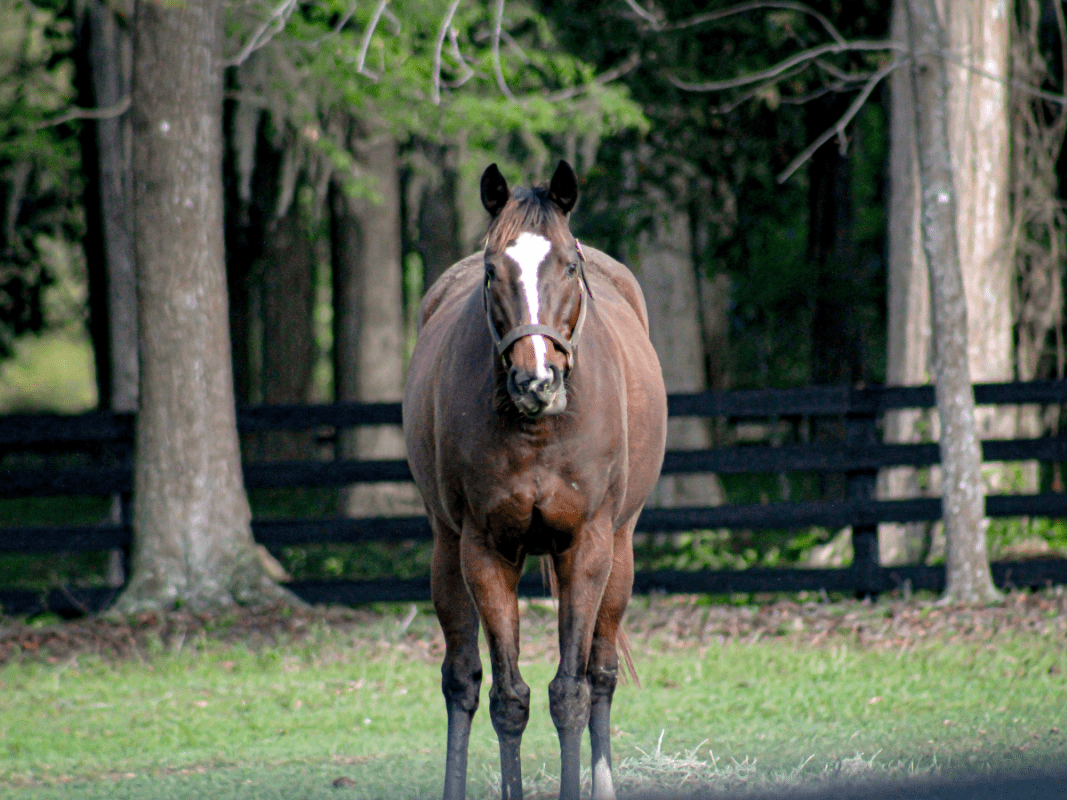 Grace Margaret
Grace Margaret is as good of a research horse as she is pretty! Grace resides at our Ocala property and is actively involved in exercise physiology studies.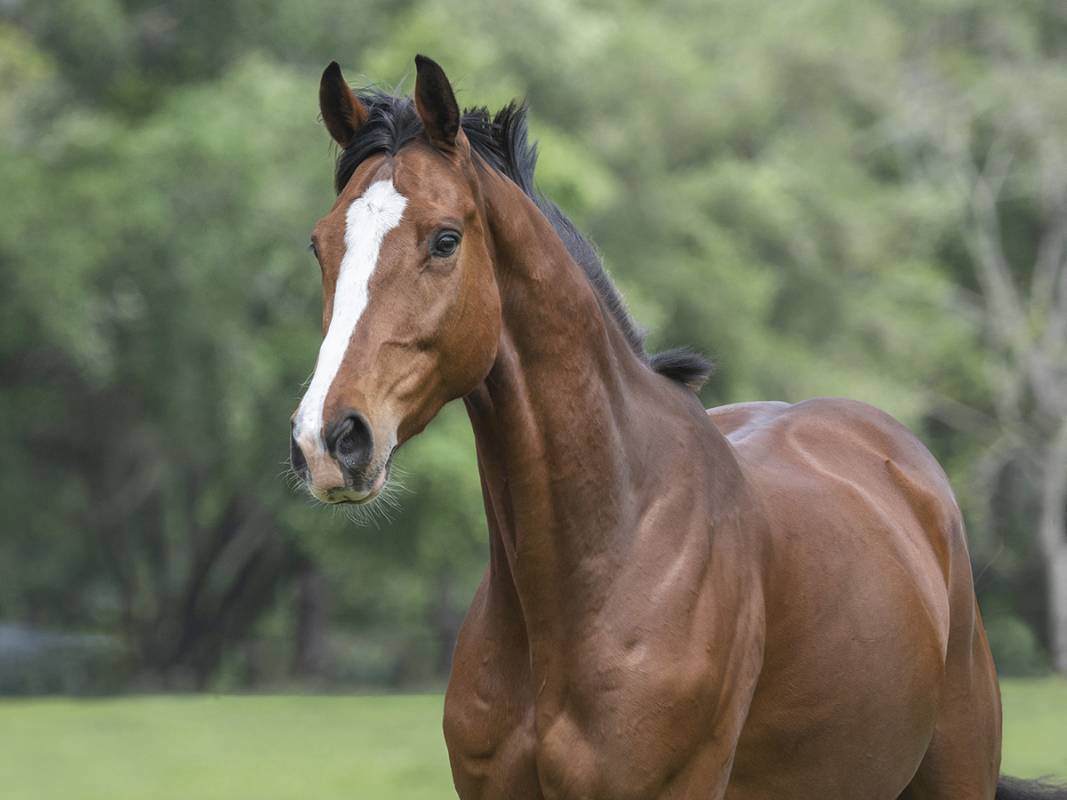 Percy
As well as being a successful event horse, Percy has contributed to studies on muscle recovery and feed palatability. He's also our cover model, gracing some of our product packaging and even our delivery truck!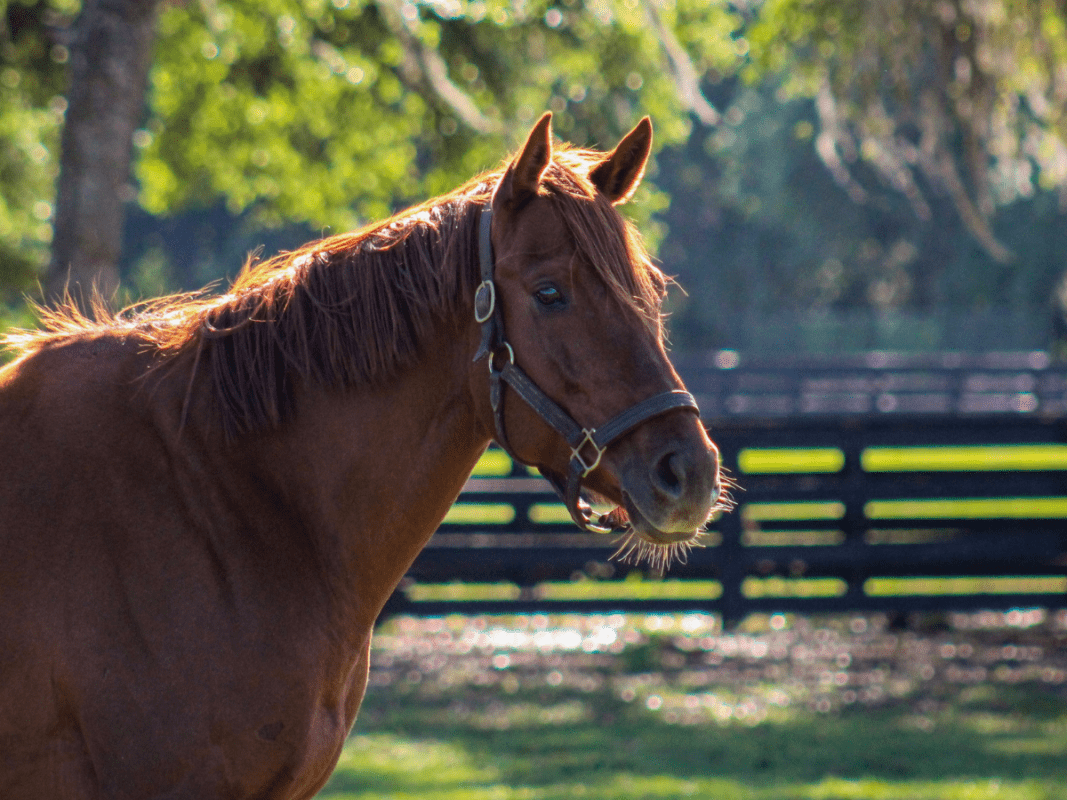 Sleepy Dream
A winner in her first two starts, Sleepy Dream is a homebred race and research horse. When not actively racing she participates in studies and trains at our Performance Center in Ocala. She has contributed to studies on how the inflammatory response to exercise changes in response to different diets.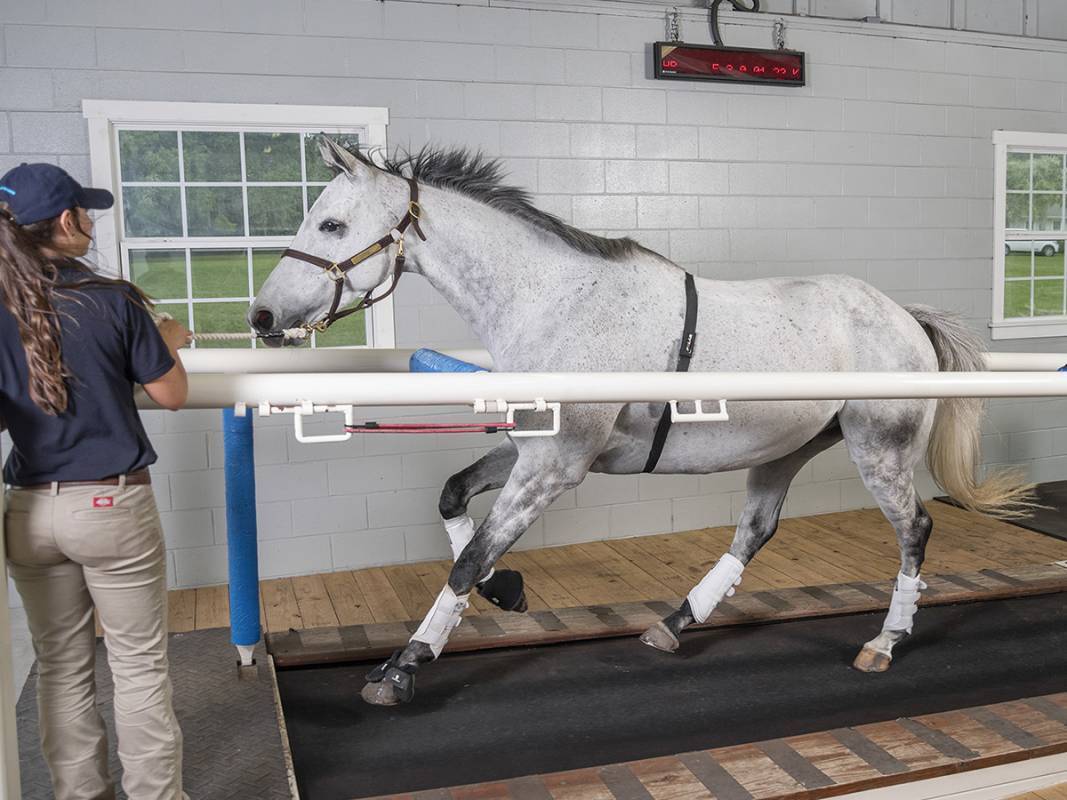 Stoney
When he isn't training and competing in horse trials, this Thoroughbred sport horse contributes to studies on muscle recovery and feed palatability.
What kind of horses are used for equine research?
When designing scientific studies, it's important to minimize variables, which includes the type of horses used. Therefore, most of our career research horses are mature Thoroughbred geldings. In the past, we have also maintained a group of Arabian geldings and performed collaborative research with university-owned Quarter Horses. We do sometimes need to a mixed group for studies, so there are a few mares on the farm as well. We also have an active race training stable of young Thoroughbreds in Florida.
Where do research horses come from?
Most of our horses come from Thoroughbred sales. We sometimes also claim horses in active race training. We are shopping for something different than your typical racehorse buyer—we're looking for horses that are very sound, have good appetites, and are easy for our interns to handle. Champion racehorses usually need not apply, but those with potential as sport horses are generally preferred because we can easily transition them into new careers down the road.
Are the horses broke to ride?
Yes. All of the career research horses are at least started under saddle. Interns enjoy hacking the more finished horses around the farm between studies.
We also have groups of actively competing event horses and racehorses that participate in trials.
Who takes care of the horses?
Research interns handle the horses' daily maintenance, under the guidance of our on-site farm managers, staff veterinarian, and several Ph.D. nutritionists.
How are the horses managed?
Full-time research horses are rotated on and off trials so everyone gets a break to just go out and be a horse on the 150-acre farm. When they are on trial, management is somewhat prescribed by the study needs and design, but every effort is made to keep schedules consistent and minimize stress. For the racehorses, studies usually mirror their typical training and management schedule.
How do you train a horse to run on the treadmill?
Slowly and patiently. But most take to it very well, especially horses with previous race training. The first few sessions include simply walking on, standing quietly, getting lots of pats, and backing off. Then walking and trotting are introduced, and eventually cantering, galloping, and raising the treadmill on an incline. The most confident and experienced treadmill horses may also wear an indirect calorimetry mask. This looks like a muzzle connected to a long hose, and gathers the horses' exhaled air during exercise, which helps us to measure when a horse switches from aerobic to anaerobic metabolism and from burning carbohydrates to utilizing stored fat for energy. The treadmill was specifically designed for horses' use, and features a shock-absorbing galloping surface and numerous safety features.
What happens when their research careers are over?
Horses may cycle off trials for a variety of reasons, including persnickety taste preferences, or if they seem to be good sport horse prospects!
Several former research horses have gone on to be excellent sport horses (including top finishers at the American Eventing Championships!). Others have gone home with interns at the end of their time with us. Some are retired from exercise work to live out their days on the farm, occasionally participating in digestibility, palatability, or quality-control studies.
Can I come see the farm?
Absolutely! We welcome visitors to see the research farms and meet the horses by appointment.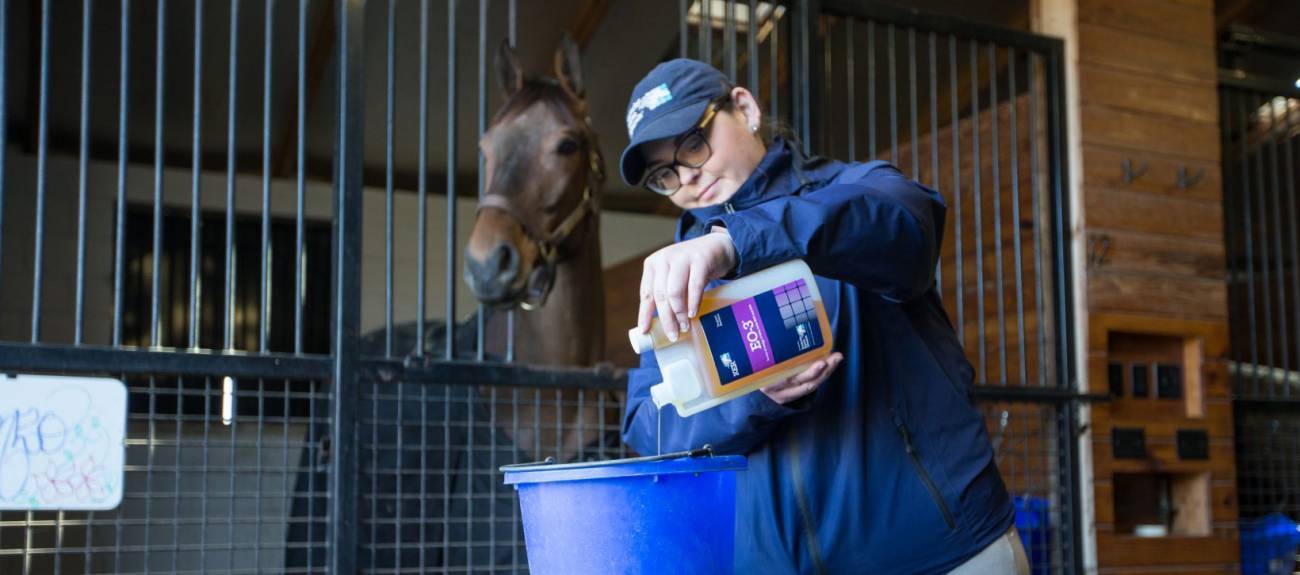 Applying the Results
Kentucky Equine Research applies the results of research trials to create innovative supplements, validate unique feed ingredients, and optimize partner feeds.