Gro-Trac
Gro-Trac
Equine Growth Monitoring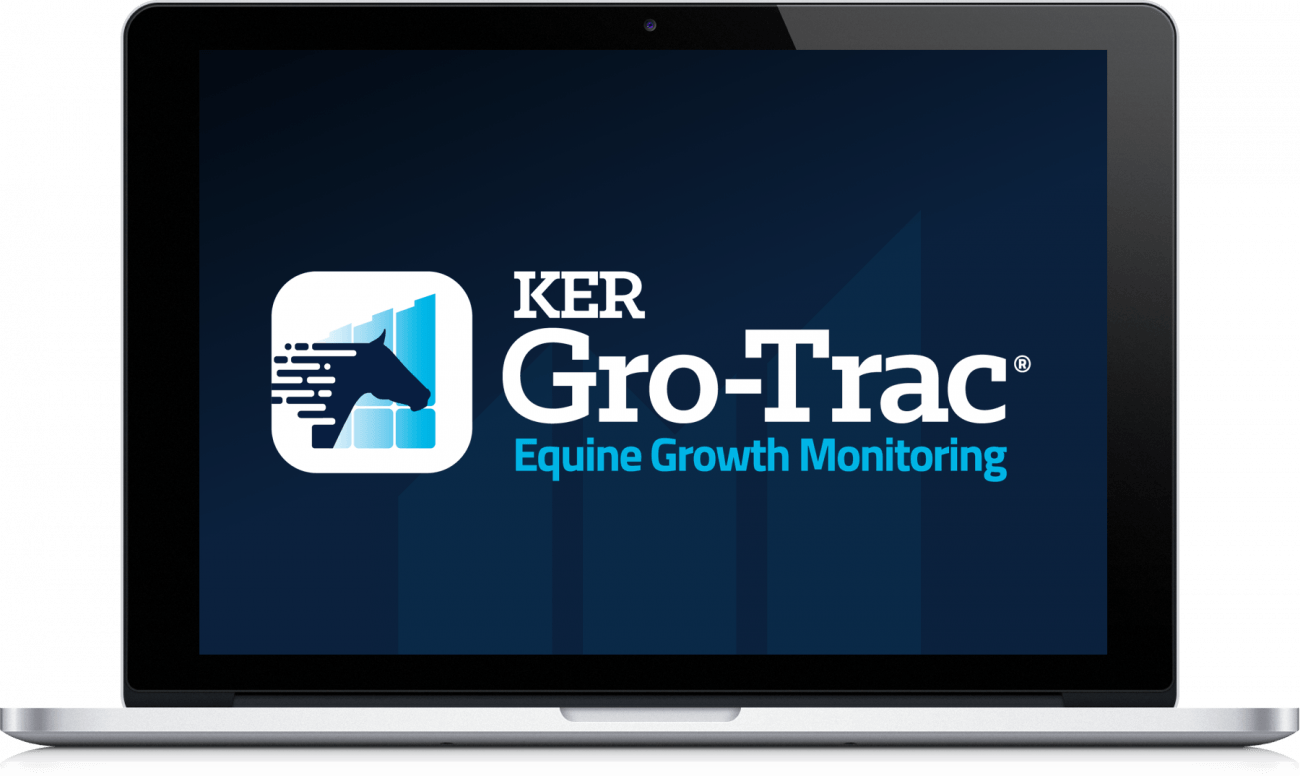 Quickly assess how your young horses stack up against their peers.
Gro-Trac®, the first equine growth-monitoring software that allows breeders to compare the growth rates of their stock with those of young horses of similar age, sex, and breed, is a valuable management and communication tool between breeding farms, consultants, and owners who cannot see their horses regularly but like to keep abreast of their development.
By using the world's largest set of growth records collected by Kentucky Equine Research over the past two decades, breeders can quickly assess how their young horses stack up against their peers. Peer reference groups include the weights, heights, and average daily gains of tens of thousands of growing horses from around the globe.
Weight and height statistics can be displayed graphically for quick visual assessment of growth, allowing user to identify and address growth anomalies early. Graphs show the growth curve for the young horse as well as the reference group of choice. Comments and photographs can be added, for instance to explain a slowdown in growth following weaning or during an illness. Data may be viewed by individual, or as averages of user-defined groups and the entire farm. Combined, these records create a picture of each horse's individual development and overall farm management.
"Thanks to Gro-Trac, we are able to monitor our equine athletes' growth rates versus other stock of the same sex and age and change feeding accordingly to precisely adjust where we want our bloodstock. This removes all the guesswork from a feeding regimen, creating a healthier more balanced, athletic animal."
-Buddy Henry, farm/bloodstock manager, EPIC Thoroughbreds, LLC
Comprehensive monitoring
No other computer software monitors equine growth as comprehensively as Gro-Trac. Ward off skeletal problems with steady growth and add a new dimension to young horse management with Gro-Trac.
For ordering information contact Eileen Phethean at Kentucky Equine Research, USA, or your nearest KER representative.
Kentucky Equine Research has spent over 25 years studying equine growth and the relationship between growth disorders and nutrition. In cooperation with our partners in the feed industry, farm managers, and veterinarians around the world, we used data collected on over 25,000 foals to create Gro-Trac® equine growth monitoring software.  Gro-Trac gives breeders and managers valuable insights into their horses' growth compared to the overall population.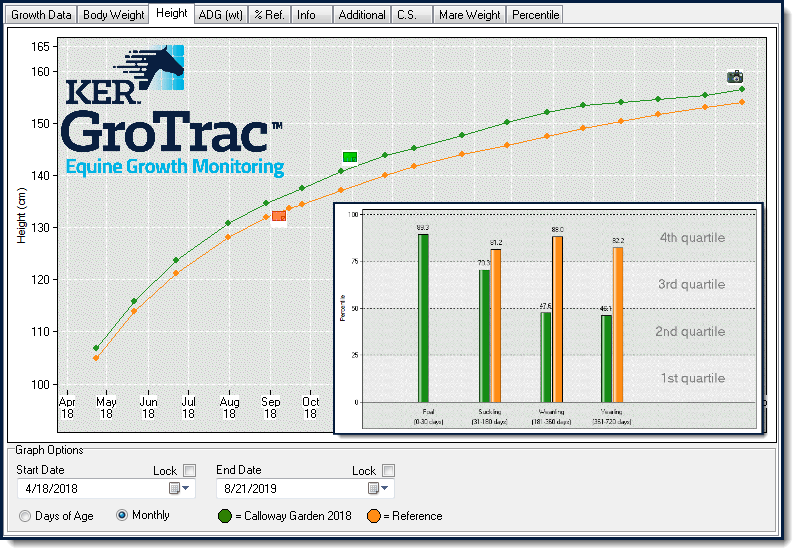 Gro-Trac® helps breeders visualize how their young horses measure up to the chosen population. Studies have shown that taller, well-conditioned horses are more likely to sell above their session medians.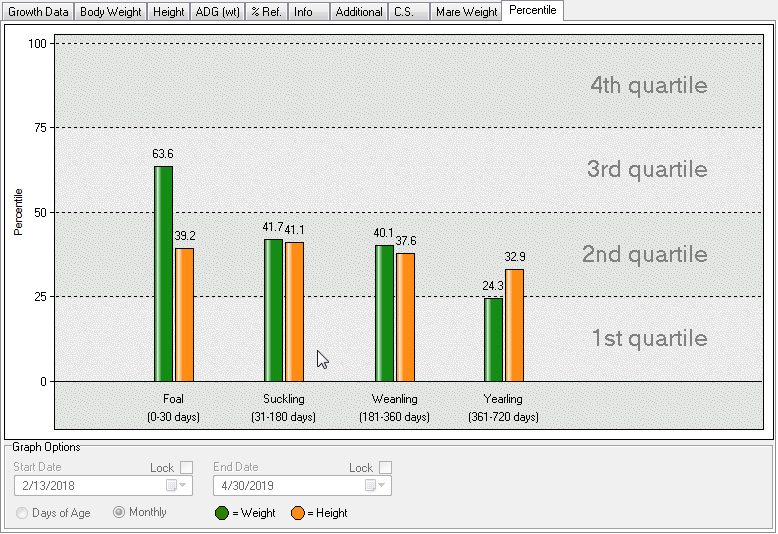 Reduced growth rates can be the result of stress, illness, lameness or pain, reduced pasture performance, or an indicator of herd dynamics at work. Make sure someone notices in time to address it before it becomes a lasting trend.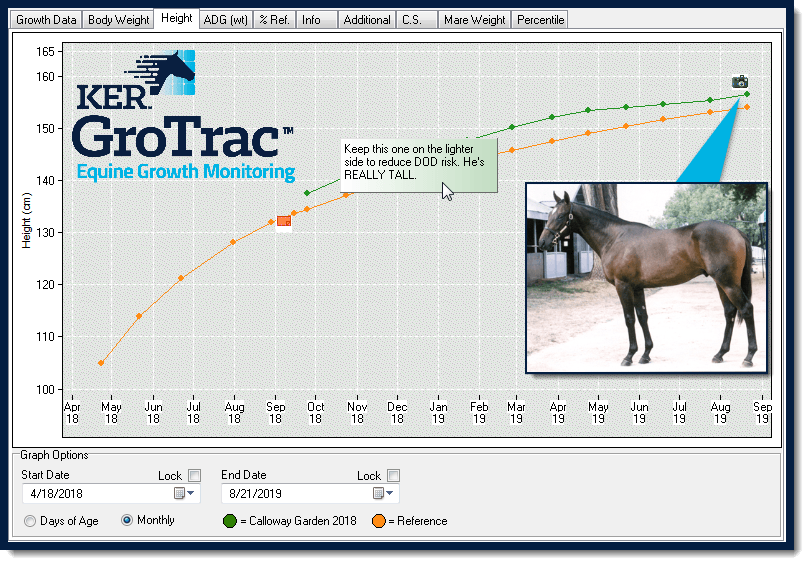 Gro-Trac® makes it easy for breeders to spot growth anomalies that may indicate increased risk for future problems or signal the need for management changes. Spotting these subtle changes early can prevent problems later on.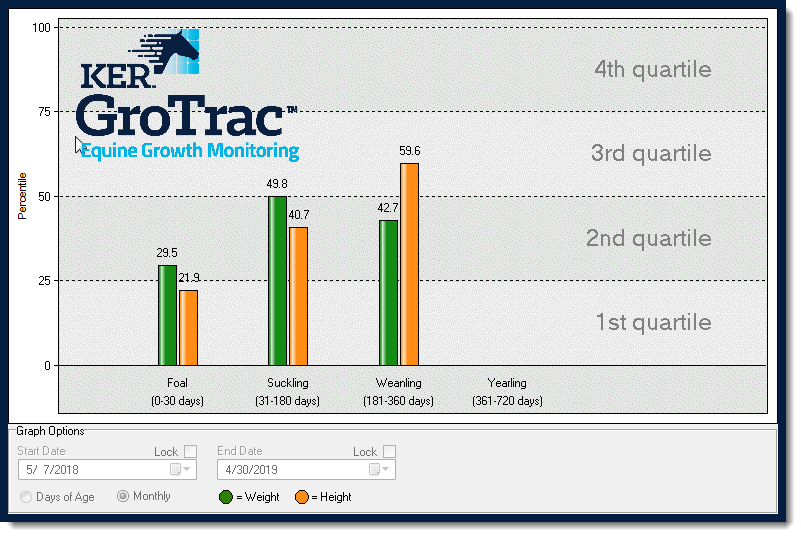 Timing is everything. Savvy managers use Gro-Trac® to analyze their young horses' growth, giving them one more view of an individual's progress when making decisions about the ideal time to present their young horse for sale. Horses managed with Gro-Trac are consistent overachievers in the auction ring.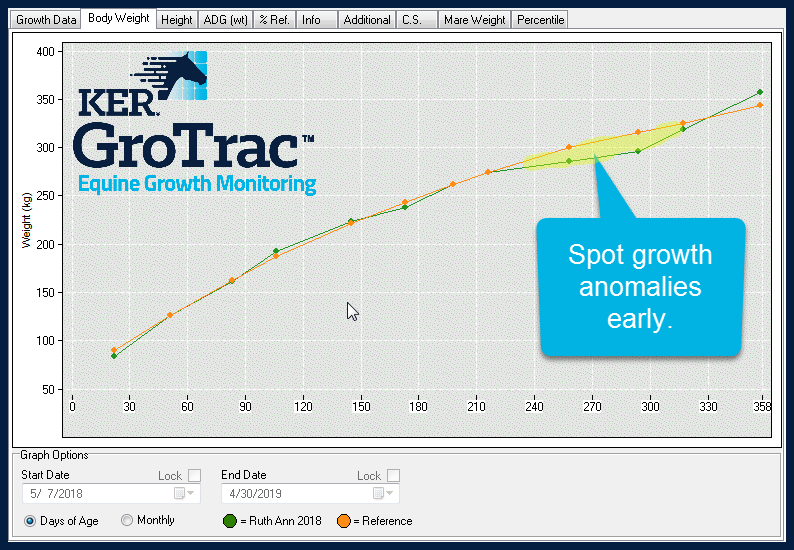 Would you notice if one weanling in a field of 10 experienced slower growth one month? Sharpen your perception with Gro-Trac®.
Published research
This data set has been utilized in dozens of research reports and presentations. See a few here: