Update: PSSM in Horses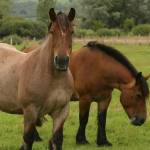 Tying-up is a baffling and sometimes frightening disease for horses and their caretakers. Signs range from a mere reluctance to move to severe colic and recumbency.
At the 2011 Texas Equine Veterinary Association (TEVA) conference, one of the leading researchers in equine muscle problems, Stephanie Valberg, D.V.M., Ph.D., of the Michigan State University College of Veterinary Medicine, brought the audience of veterinarians up to date on polysaccharide storage myopathy (PSSM), one cause of tying-up.
What Is Tying-Up?
The most common signs of tying-up are muscle stiffness and cramping, sweating, and reluctance to move. Valberg said about 3% of exercising horses of a variety of breeds are affected.
When tying-up happens on a regular basis, it is termed recurrent exertional rhabdomyolysis (RER or chronic tying-up). RER can be caused by several muscle problems. According to Valberg, three genetically identifiable causes of muscle malfunction are exertional rhabdomyolysis type 1, PSSM type 1, and malignant hyperthermia. She warned that there might be other unrecognized causes of RER.
PSSM
"While some horses sporadically develop exertional muscle damage as a result of nutritional, training, or environmental factors, others develop RER in spite of a sound diet and environment," noted Valberg. "Many of these chronic cases are due to an intrinsic and inherited dysfunction of muscle metabolism or muscle contraction."
In 1992, Valberg first reported PSSM as a distinct muscle disease in horses. Her reports were based on finding abnormal polysaccharide in skeletal muscle biopsies.
"Sugar is stored in skeletal muscle in the form of a highly branched polymer called glycogen, which is sensitive to digestion by the salivary and pancreatic enzyme amylase," she explained. "In the original group of horses diagnosed with PSSM, an increase in normal amylase-sensitive glycogen was discovered along with an abnormal amylase-resistant polysaccharide that was less branched than normal glycogen. Later the term PSSM was applied to biopsies with increased normal amylase-sensitive glycogen without the presence of abnormal polysaccharide."
In short, horses with this genetic problem are unable to normally store and use sugar in skeletal muscles.
Since those first studies, there has been much progress made in diagnosing PSSM. In fact, more than one form of PSSM exists today. Laboratory tests determine which specific genetic mutation is causing the tying-up.
"For clarity, the form of PSSM caused by a GYS1 (a specific gene) mutation is now termed type 1 PSSM, whereas the form of PSSM that is not caused by the GYS1 mutation and whose origin is yet unknown is now termed type 2 PSSM," explained Valberg.
Type 1 PSSM
Research has shown that the genetic mutation at GYS1 responsible for type 1 PSSM can be found in more than 20 breeds of horses.
"It is estimated to have emerged as far back as 1,600 years ago, when the great horse was being developed from European draft and light horse breeds to carry knights with heavy armor into battle," noted Valberg.
She noted in her presentation that the highest prevalence of PSSM appears to occur in draft horses derived from Continental European breeds (90% prevalence of PSSM in Trekpaards, a draft breed, with 40% of tested Belgian Trekpaards being homozygous for the trait). In contrast, she said the prevalence of PSSM is low in United Kingdom-derived breeds such as Shires and Clydesdales.
In today's horse breeds, Valberg stated that the estimated prevalence of type 1 PSSM in halter-bred Quarter Horses is the highest in that breed (28% affected), with the general Quarter Horse population ranging from 6-10% affected. Racing Quarter Horses seem to have the lowest frequency of type 1 PSSM within the breed. Paint and Appaloosa horses have a type 1 PSSM prevalence of 6-8%, according to research findings.
"The prevalence of type 1 PSSM is very low in light horse breeds such as Arabians and Thoroughbreds," said Valberg.
The basic problem with the genetic mutation that causes type 1 PSSM is that skeletal muscles of PSSM horses have 1.5-4 times higher concentrations of glycogen than normal horse muscle. The persistent glycogen synthase activity in type 1 PSSM muscle appears to disturb the normal flux of muscle energy metabolism during exercise, explained Valberg.
While the complete cycle of how the genetic mutation causes problems in the storage and use of muscle glycogen is under investigation, it is known that diet and exercise can be used to manage the problem in many horses.
A diet high in nonstructural carbohydrates (NSC) will cause a horse with the genetic problem that causes type 1 PSSM to be more likely to have clinical signs, or more severe clinical signs, of tying-up. Some horses with type 1 PSSM are asymptomatic, but most horses with the genetic defect will begin to show signs of PSSM by six years of age. Valberg cautioned that the signs of PSSM can begin as early as one year of age and as late as the mid-teens.
In postulating why this genetic mutation has become more prevalent in some breeds, it has been noted that owners of horses with type 1 PSSM often describe their horses as having a calm and sedate demeanor.
Clinical signs of chronic PSSM
Valberg gave the following descriptions of the clinical signs of type 1 PSSM.
Light breeds. Chronic signs of type 1 PSSM in riding horses include a lack of energy when under saddle, reluctance to move forward, stopping and stretching as if to urinate, and a sour attitude toward exercise. Horses may have a combination of low-grade reluctance to exercise, poor performance, and repeated episodes of tying-up. The range of severity of clinical signs of PSSM can be wide, with some horses being asymptomatic and others completely incapacitated. Serum creatine kinase (CK) activities are often elevated in untreated Quarter Horses, even when horses are rested. When horses are symptomatic, CK will usually increase by 1,000 U/L or more 4 hours after light exercise (15 minutes of exercise at a trot). The median CK and aspartate aminotransferase (AST) activity for all PSSM Quarter Horses with muscle biopsies submitted to the University of Minnesota was 2,809 and 1,792 U/L, respectively. Affected Quarter Horse and Paint Horse foals and weanlings may develop rhabdomyolysis without exercise.
A small number of Quarter Horses and Paint horses have both the GYS1 mutation and a genetic mutation (RYR1) for malignant hyperthermia (MH), which results in particularly severe signs of tying-up and a limited response to diet and exercise changes. In horses with the RYR1 mutation, during an episode of tying-up they can experience excessively high body temperatures and sudden death can occur.
Drafts and draft crosses. The average age of draft horses diagnosed with PSSM is about eight years. Many draft horses with PSSM are asymptomatic. Signs of severe rhabdomyolysis (muscle damage) and myoglobinuria (red to brown urine) may occur in horses fed high-grain diets, exercised irregularly with little turnout, or undergoing general anesthesia. Other signs of PSSM in draft horses include progressive weakness and muscle loss resulting in difficulty rising in horses with normal serum CK activity. Pronounced weakness is more prevalent in homozygotes for the GYS1 mutation. Gait abnormalities such as excessive limb flexion, fasciculations, and trembling are also reported in draft horses. Although the condition shivers was previously attributed to PSSM, a recent study found no causal association between these two conditions. The median serum CK and AST activities in draft horses from which  muscle biopsies were sent to the University of Minnesota was 459 and 537 U/L, respectively.
Diagnosis
Blood or hair samples can be used to test for PSSM, MH, and other genetic diseases of horses. Muscle biopsies might be needed to definitively diagnose a problem. For more information in the United States, visit the Michigan State University Equine Neuromuscular Diagnostic Laboratory page. In Europe, contact Laboklin. MH testing is also conducted at the University of California at Davis.
Valberg and coworkers have assembled a list of frequently asked questions that can help horse owners understand PSSM.
Type 2 PSSM
Some horses with PSSM do not have the genetic mutation and are called type 2 PSSM cases. There is ongoing research to learn more about these horses. Valberg said about 28% of cases of PSSM diagnosed by muscle biopsy in Quarter Horses do not have the GYS1 mutation.
"Type 2 PSSM seems to be more common in higher performance horses such as barrel racing, reining, and cutting horses compared to the high prevalence of type 1 PSSM in halter horses," said Valberg. "About 80% of cases of PSSM diagnosed by biopsy in Warmbloods have type 2 PSSM. Breeds affected include Dutch Warmblood, Swedish Warmblood, Hanoverian, Friesian, Selle Francais, Westfalian, Canadian Warmblood, Irish Sport Horse, Gerdlander, Hussien, and Icelandic horses. Many other light breeds have also been diagnosed with type 2 PSSM including Morgans, Standardbreds, and Thoroughbreds.
"Type 2 PSSM also occurs in Arabians; however, in my experience this breed is distinct in that it often has amylase-resistant rather than amylase-sensitive polysaccharide but is negative for the GYS1 mutation," said Valberg.
Valberg continued, "Horses with type 2 PSSM do not necessarily have the same calm temperament as horses with type 1 PSSM." Clinical signs are similar between type 1 and type 2 PSSM, although poor performance seems to be a more typical sign than actual tying-up episodes.
"An undiagnosed gait abnormality, sore muscles, and drop in energy level and willingness to perform after 5-10 minutes of exercise are common complaints in Quarter Horses with type 2 PSSM," explained Valberg. "Warmbloods with type 2 PSSM have painful, firm back and hindquarter muscles, reluctance to collect and engage the hindquarters, poor rounding over fences, gait abnormalities, and slow onset of atrophy.
The diagnosis of type 2 PSSM is done with muscle biopsy. Valberg advised that mild PSSM cases should receive a full physical examination to ensure that there are not other underlying causes for performance problems.
Managing a Horse with PSSM
Diet and exercise are the foundations of managing a horse with PSSM.
Understanding the horse's caloric requirements and ideal body weight are important factors, stressed Valberg. "Many horses with PSSM are easy keepers and may be overweight at the time of diagnosis."
Using a grazing muzzle or restricting the horse to a drylot might be necessary for easy keepers. Hay that is fed should have a low NSC content of 12% or less. Using a ration balancer along with low-NSC hay and/or restricted grazing might be sufficient to keep some PSSM-affected horses at an ideal body weight.
"The effect of low-starch, high-fat diets on exercise-induced muscle damage has only been demonstrated under controlled conditions in Quarter Horses," noted Valberg. "In Quarter Horses with PSSM, providing less than 10% of daily digestible energy (DE) as dietary starch and 13% of daily DE as dietary fat (Re-Leve®) resulted in normal serum CK activity 4 hours post-exercise during a 6-week trial."
"Regular daily exercise is extremely important for managing horses with PSSM," stressed Valberg. "Even 10 minutes of exercise has been shown to be extremely beneficial in reducing muscle damage with exercise. Once conditioned, some PSSM horses thrive with four days of exercise as long as they receive daily turnout. For riding horses with type 2 PSSM, a prolonged warm-up with adequate stretching is recommended."